If numerous years in commercial carpet cleaning have taught us anything, it is that each and every office space is different and unique, with specific characteristics of its own. Not every facility has the same purpose or same foot and traffic frequency.
In most cases, we can talk about three different categories – lighter, such as storage spaces, medium, like regular office spaces and heavy, which includes classrooms, corridors and other spaces with extremely high frequency of people. That is why it is important to know and understand the space where your business is located in order to choose the right carpets for you, as well as the right cleaning service and cleaning schedule.
Once you take into account the number of people coming and going on a daily basis and the amount of time they are spending in the office it becomes much easier to make the right choice.
Sometimes the best thing for your business is to invest in high-quality carpets and upholstery, and sometimes it is quite the opposite and it's financially wiser to buy lower-quality products and invest more funds in their maintenance. In any case, the key thing is to find what works best for your particular working area.
Placing carpets in your working area offers you many advantages; they're not just here for the decoration, even though that is rather important. They enhance the beauty of the space and the overall atmosphere, not just for the employees but also for potential clients. Apart from the beautifying effect, carpets are also excellent air filters and, another thing we cannot forget, they are slip proof.
Whichever carpet you eventually choose, it will require regular cleaning and maintenance. While vacuuming may help on a day to day level, extensive and professional cleaning is a must in order to fully remove dust, stains, and debris. By hiring reputable professional cleaning service, you will be able to work on a schedule that completely suits your company's needs.
This extensive cleaning should take place every six months, sometimes more often, depending on foot frequency. We at Geyen Group South offer several carpet cleaning methods, but our most used ones are Dry, Low Moisture and Restorative.
Dry carpet cleaning includes the use of specialized equipment with chemical technologies that offer either no moisture or very low moisture cleaning. Like dry carpet cleaning, low moisture has a big advantage in faster dry time when compared to more conventional methods. Both these systems are green and water- and energy-efficient.
Restorative carpet cleaning includes methods such as rotary shampoo and hot water extraction, and it is designed to handle heavy soiling conditions. All these methods require high operator training and skill levels, and we can proudly say our staff has all the proper training to perform the cleaning in the most professional way possible, leaving the carpets fresh, beautiful and fully sanitized.
As you may see from the explanations above, some methods use water and others don't. And this is one of the questions we are commonly asked: "Why do you have to use water?"
There are two main answers we can give here. The first one would be that some of our cleaning systems require water to clean in order to get the best results, especially in more severe cases. The second one would be that even though we use low-moisture cleaning systems, water may still be used with cleaning solution in removing soil. So, sometimes it is necessary to use smaller amounts of water in order to get the best results.
At this point, you may ask yourselves how the entire cleaning process works. Let's start from the very beginning. Once you find professional cleaning service of your choice the next step is to reach out to them and schedule a consultation.
Every reputable service will come and inspect the area, both outside and inside. The space around the building matters, too, because the vehicles are usually parked close to the building for one important reason – the hoses extend from the truck into the building. We do realize clients often wonder if it is necessary to park in such proximity to the building, but the closer the access the easier it is for the cleaners to manage the hoses.
We try our best to cause minimum inconvenience and to explain all the details in advance so our clients are informed and prepared for the cleaning process. Once the cleaning professionals arrive, they will inspect everything before the cleaning, to get the 'lay of the land". The next step is the cleaning itself.
Reputable cleaners with years of training and experience will use any precaution and measures needed and will opt for the cleaning method that will suit the current state of your carpets best.
As we've mentioned before, there are several methods available with different types of equipment, and it is up to the professionals to decide what would be the most efficient way to perform the cleaning.
The main goal is to thoroughly clean the carpets and to get rid of the dust, dirt and any germs. That is why it is of utmost importance to find a reputable professional carpet cleaning service with experienced experts who will use appropriate machines and products and will make sure there is no damage done to your carpets and they are left in pristine condition.
We do realize sometimes when you decide on cutting cleaning budgets or reducing this type of service, routine carpet cleaning may be the first one to go. However, if you and your facility manager schedule a consultation, you will see and understand how different carpet cleaning techniques work, such as low moisture one, for example, and you will see how you can keep carpet care a part of the program and save money at the same time. In the long run, you will save money in your budget by prolonging the lifespan of your carpets and you will have the extra funds to utilize in whichever way you see fit.
Should you choose us, we at Geyen Group South will strive to simplify the entire cleaning process by doing things a bit differently and will do our best to come up with the cleaning schedule that will minimize any possible inconvenience for you and your employees. And, if you have any specific requests, we are here to listen and find the right solution for your working space. So, ask away!
Summary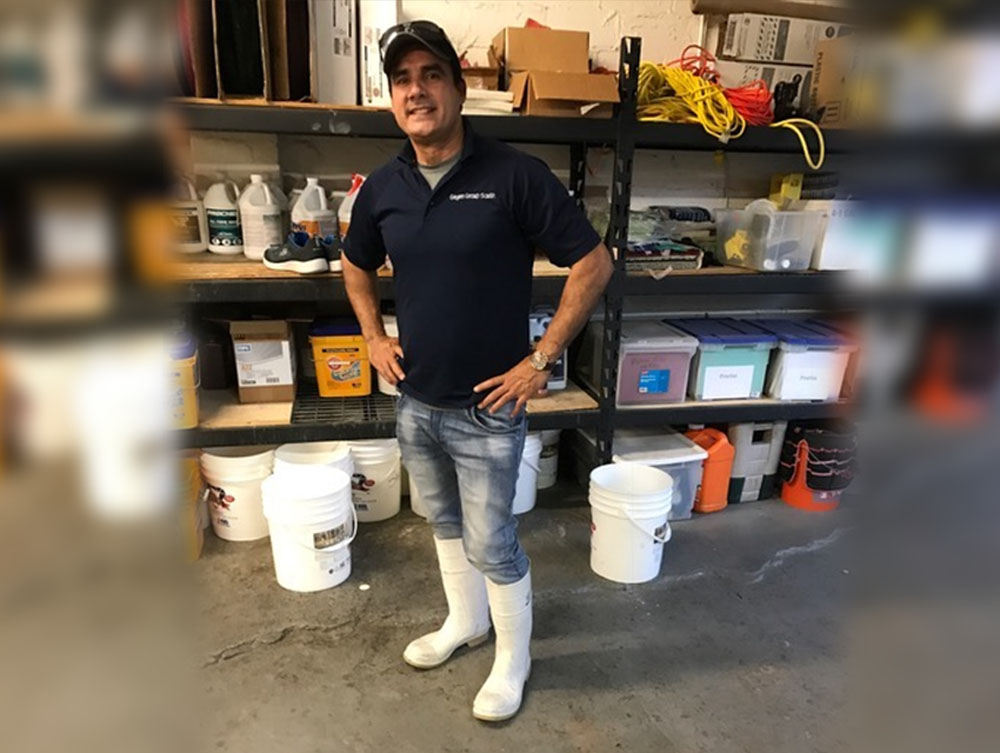 Article Name
Commercial Carpet Cleaning Essentials – Is Water a Necessity?
Description
If numerous years in commercial carpet cleaning have taught us anything, it is that each and every office space is different and unique, with specific characteristics of its own.
Author
Publisher
Publisher Logo