Last month we discussed the increased awareness to the effects our actions and choices have on the environment including our places of work, where we spend on average 44 hours per week (Bureau of Labor Statistics. May 3rd, 2017). We also touched on the importance of selecting service providers in three key areas of expertise that are necessary to meet a minimum criterion that ensure the level of quality and thorough work practices necessary to maintain a sustainable level of indoor air quality.
The three key contributing factors discussed were: general cleaning of the facility, textile and carpet maintenance and HVAC maintenance. The service providers that specialize in these areas are Professional Building Services (janitorial) contractors, Professional, Certified Carpet and Textile/Upholstery Cleaning contractors and HVAC/Mechanical contractors.
Just as in all areas of services we personally use there are standards, licenses, insurance and certifications we look for, so it is with the three key service providers needed to maintain the beauty, cleanliness and air quality of a building. Let's look at each category and what should be kept in mind when selecting/awarding a contract.
Building Maintenance Services
In an article published by Sharon L. Cowan, CBSE entitled; What do Customers REALLY Want? she highlights the following six areas of concern to customers:
Respect and Recognition. Nothing sounds better to a customer than his or her own name. Use it throughout your conversations and communications with customers. They love to hear it.
To be listened to with empathy and understanding. Hear what the customer is saying to you. Don't assume you know what they want. Listen and HEAR, then act.
Satisfaction (find a solution to their problem). Even if you don't have the solution to the problem, take care of the customer by finding an alternative or someone who can address the problem. You will retain your positive relationship with the customer by doing so.
Trust and Trustworthiness. Human beings are hardwired to want and need trust in a relationship. Show your trustworthiness by doing what you say you will do. Never willingly brush off the concerns of a customer.
To feel important. When we treat each customer as if he/she is our only customer, the level of satisfaction and importance rises.
A quality service for a fair price. While some customers are price only, many want a quality service and are willing to pay a fair price for it.
https://www.cleaningbusinessconsultinggroup.com/2012/02/what-do-customers-really-want-2/
If the contractors you are interviewing for building services address those areas of concern, then finding a mutually beneficial middle ground on pricing is worth the slightly higher cost of doing business with them. After all, at the end of the day, we do business with people, not entities. It is important to also note there are areas of professional certifications, designations and associations that true professionals participate and invest time and money into, to the betterment of their business and the level of services their customers receive. Obviously, licensed, insured, uniformed, etc., speaks volume as to the level and quality of service and workers you will receive when they service your facility.
Carpet & Textile Professionals
Carpeting, panels, textiles in a professional office environment can run the gamut from standard, construction grade materials to high end, expensive, rare area rugs, upholstery, draperies. Not all fibers, fabrics, carpets are created equal. Warranties come into play with commercial carpeting and can quickly become a costly nightmare if the wrong contractor is awarded a contract based on pricing only. For higher end offices such as brokerage firms, law offices, banks, medical buildings, casinos etc., the carpets are often specially selected by a designer, often using custom colors, and stringent mill requirements may apply to the care and maintenance for the warranty to be honored.
Very few 'we do it all' carpet cleaning contractors have the qualifications to understand the nuances of caring for such fibers and textiles. Even fewer invest in the costly process of education and certification of the staff that will then be servicing your account. Look for industry recognized certifications (IICRC https://www.iicrc.org/?# ). And an even smaller percentage go the extra step of investing in the very costly process of having their staff attend specialty courses held on site at carpet mills such as Milliken http://www.milliken.com/ Spartanburg, GA where technicians can participate in hands on training, tour carpet mills, take the required examinations to receive their certifications and become specialists in understanding manufacturer warranty requirements. These courses are few and far between and by invitation only. If your service provider is familiar with such program, odds are they understand what it takes to meet strict warranty guidelines on fine carpets and textiles.
Such training involves the cost of the training itself, travel expenses and time away from producing revenue for the contractor, thus emphasizing the importance of recognizing this major difference in credentials and qualifications when looking at a proposal from such a contractor. In addition, the employees of such contractors normally take great pride in their work, they have built a career around and pursue continuing knowledge in the world of fibers and textiles. This alone is worth the investment!
Aside from the above, it is important to address basic key requirements before signing a contract and turning over the keys to your facility:
Are they Licensed?
Can they provide a Certificate of Insurance?
Are their employees background checked and drug tested?
Do employees wear uniforms and have proper ID?

These are important factors when workers have access to facilities where handling sensitive, confidential information is at the core of the business.

Are the company vehicles and equipment clean and well maintained?

A quick tour of a technician's van will reveal much about the care your carpet and textiles will receive as well as the attitude of the technician doing the work.

Do they own the proper equipment for the specific job to be done?

No one piece of equipment is a 'one piece does it all', be wary of such sales pitches!
Improper equipment usage can void warranties. Some manufacturers go as far as specifying not only the equipment that must be used, but even product line and temperatures to not void the warranty!
Finally, and most importantly, the key contact person for the contractor and your key contact person must be able to communicate effectively, professionally, respectfully including when issues arise, which, as with any relationship, does occur from time to time.
Expectations must be outlined clearly, and specific areas of concern must be addressed and documented, as well as how the contractor will address them. A good contractor will not shy away from covering with the customer what the realistic expectations are for the carpets and/or upholstery/textiles/panels to be cleaned based on the current condition, soil etc.
When expectations are made clear, kept realistic and are documented, misunderstandings are less frequent and much easier resolved.
Mechanical Contractor/HVAC
This area must meet stringent requirements not only on a professional level but even more seriously on a state licensing level. There are many different areas of expertise an HVAC contractor may specialize in. Some contractors focus only on commercial installations. Others offer installation and maintenance programs. This area of expertise should be of special interest to facility maintenance management because ultimately, what is in the duct system affects the air quality of the entire conditioned space within the building.
HVAC contractors that have thorough maintenance programs are often affiliated with ACCA  https://www.acca.org/homeand NADCA (https://nadca.com) and may hold certifications provided through the Education Programs provided by such the same.
All HVAC issues should be addressed promptly as delay will only cause secondary problems which will become costlier as time passes and the potential for building related illness or even sick building syndrome becomes a possibility.
Of course, all other key factors already discussed should be considered during the interview and selection process of the contractor that will maintain a most important component that affects the indoor air quality of the building.
Another resource in a well-rounded HVAC maintenance program is familiarity with firms that specialize in services such as IAQ Testing, Analysis and CDC Elite Legionella Testing and Hygienic HVAC remedial/restoration. Credentials and licensing are crucial in this area!
Some examples are:
AEE Certified Indoor Air Quality Professionals (CIAQP)
ACAC Certified Indoor Environmental Consultants
Applicable State Licensing as Mold Assessors and Remediators (MRSA & MRSR)
Applicable State Mechanically License
NADCA Certified
CDC Elite Program Laboratory
New York State Department of Health ELAP
All in all, the key lies in knowing what to look for, what questions to ask, and determining the extent to which there is compatibility between the service provider and the specific needs and wants you have for your facility. As mentioned before, when issues need to be addressed, resolution will depend on the relationship you have with the service provider and the choice made at the outset to select services based on price vs professional business approach to service, quality and approachability/availability. As the saying goes; "You get what you pay for".
Next month we will round things off with tips to understanding the inner workings of the service provider industry, how their overhead contributes to the prices we pay and why appreciation and respect for specialty services results in long term business relationships.
B.A. 10/24/19
Summary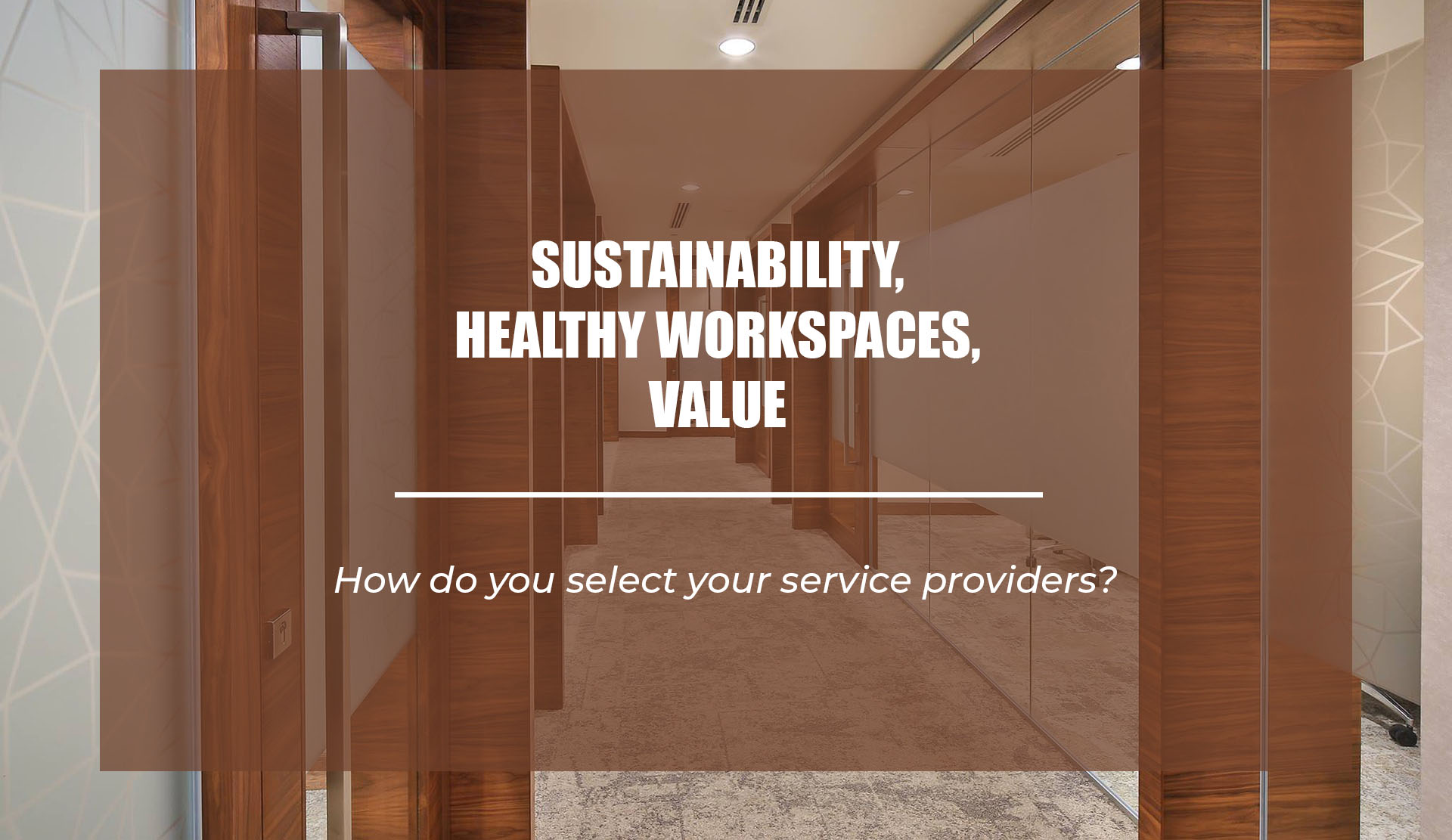 Article Name
Sustainability, healthy workspaces, value: how do you select your service providers?
Description
What should be kept in mind when selecting/awarding a contract.
Author
Publisher
Publisher Logo