In our previous post, we were discussing how we feel when going back to the office after the holidays. We were talking about the important topic of post-holiday blues in the office and how to overcome it. As difficult as it may seem at first, we saw that there are some things you can do to make it easier for you – chatting with your co-workers and sharing your holiday experiences with them, bringing some of your favorite souvenirs and/or photos to work, starting slowly with your work, giving yourself time to ease into it, taking small breaks every three to four hours at first, etc. Just think about it, coming to work refreshed can give you some new perspectives and help you deal with new office tasks. So, as we've seen, coming back to work after holidays isn't the easiest thing, but with a little bit of help, you'll be as productive and as effective as ever.
We've covered the part of you returning to the office after the holidays, but what about the office? In today's post, we're going to see what is there to do when it comes to post-holiday time in the office. In Part Two, we will focus on the office itself and how to properly care for it during this time of the year.
So, let's start with the cleaning part, shall we?
We're now in those final winter months, already eagerly waiting for warmer and sunnier spring days. But, for now, many of us are still probably dealing with cold and chilly days. Depending on where we're located, we may experience snow, rain, wind or none during winter. Even if you live in a snow-free climate, that doesn't mean you will automatically avoid all the inconveniences that may occur during winter. Sure, you probably won't have to cover their sidewalks and/or parking lots in rock salt and sand which can potentially cause serious damage to your flooring and carpets. Nevertheless, it is imperative you stick to your regular cleaning schedule during winter months, so you can fully protect carpets and floors in your office. By doing so, you will ensure your office survives the season in best conditions possible. So, just keep in contact with your cleaning service, make sure you keep up with your cleaning schedule and there will be nothing to worry about. We at Geyen Group South always do our best to provide the best care possible for your office carpets, chairs and cubicles, not just during winter, but all year long.
Now let's get into more cleaning details. What does office cleaning during winter include?
Our first topic will be floor cleaning. Here we must again emphasize the importance of scheduling and planning ahead when it comes to floor cleaning. The cleaning should include regular washing, scrubbing, buffing/burnishing/sealing of various types of flooring you may have in your office building. Sure, you could do this yourself, but we always recommend hiring professional and experienced cleaning technicians who will choose the right equipment, floor cleaners and sealers recommended by the manufacturers of your office floors, etc. It's never a bad thing to be precautious and to invest in proper and professional office cleaning if you want to keep your office at its best condition.
Next up is carpet cleaning. Like floors, our office carpets are also subject to damage from various winter elements. So, what can we do to protect our carpets during those harsh winter months? Number one thing you should do is increase regular vacuuming during winter, to account for all the dirt that can be brought into your office. Regular cleaning is the first line of defense to prevent it from spreading onto floors and other surfaces. In addition to regular carpet cleaning, make sure to schedule, in accordance with your professional cleaning company, deep carpet cleaning and/or extractions of the carpet, to remove and get rid of any remaining dirt build up occurring on carpet fibers. We at Geyen Group South offer a number of carpet cleaning services, such as maintenance carpet cleaning, restorative carpet cleaning, as well as dry and low moisture cleaning. We will make sure to inspect your carpets and find the right carpet cleaning method for your office carpets, at any time of the year.
And finally, the last thing we will discuss today is window cleaning. Why is it so important to keep your windows clean, especially during winter? Keep in mind that clean windows equal more sunlight. And who wouldn't want that? Sunlight is extremely important during winter and can affect people's productivity and general mood. Also, during colder months, clean windows can save money on your heating bill  by letting more sunlight in during the day. Bear in mind that when your windows become dirty, they will degrade faster over time, taking a toll on your budget. That is why it is crucial to have a regularly scheduled window cleaning program during winter months. Plan ahead and find the right professionals to do the job and keep your windows perfectly clean, you won't regret it.
In today's post, we tried to go over all the important details regarding post-holiday office cleaning during final winter months. The key thing when it comes to having your office in the best condition possible during this time of the year is professional office cleaning and planning ahead. Scheduling your office cleaning should be one of the priorities, not just during winter but all year round. Paired with having professional and experienced cleaning technicians there will be nothing to worry about and you will be able to enjoy those gorgeous winter days while sitting in your squeaky clean office, looking through your clean windows and admiring your surroundings. If you come to such an office after the holidays, you will feel at ease, far more relaxed and productive and ready to take on any office tasks that might be waiting for you. So, sit back and enjoy these remaining winter days!
Summary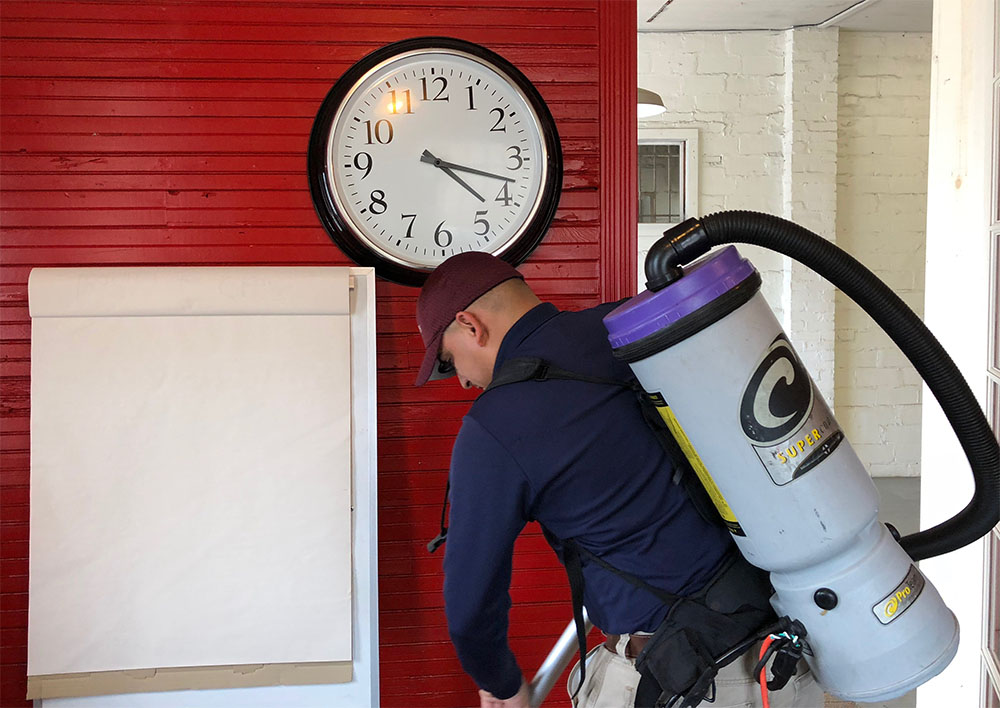 Article Name
Post-holiday time in the office - Part Two
Description
Let's see what is there to do when it comes to post-holiday time in the office. In this article we will focus on the office itself and how to properly care for it during this time of the year.
Author
Publisher
Publisher Logo