Today we are going to discuss an important issue, and it is an issue which presents quite a dilemma for many business owners out there. There is no right or wrong answer nor we could impose our opinion as if it were the only right one, but we'll try to state all the facts, see all the pros and cons and try to find the best possible solution. The dilemma we're facing today revolves around office cleaning 101, and it deals with the type of cleaning you prefer for your office space. So, outsourcing your cleaning services – is it the way to go?
Let's start by seeing what the alternatives are when it comes to office cleaning. Or, even better, let's start with your expectations in regards to office cleaning. The alternatives will be next on our list.
So, do you have any office cleaning expectations and what they might be? Well, the most obvious one is that you should demand a clean and healthy office space, for many reasons. The final product of office cleaning should be a perfectly maintained working space free of any potential health hazards. We'll just briefly go through all the benefits you might get out of it – a well-kept office will make a great impression on your clients and/or customers, it will make your employees feel much more effective and productive, it will be germ-free, dust-free and in general, it will represent a healthy environment for everyone working and spending time there. So, as you can see just by listing some of the most important benefits, there is no reason why your office shouldn't be kept clean and in perfect health conditions. And this is the expectation you should always strive for. The next question is how to achieve this goal.
This brings us to our next topic – what are the alternatives you have when it comes to office cleaning? By alternatives we mean who and why should be in charge of keeping your office space clean. There are two main ways to go. First one, you can have an in-house cleaning crew. At first glance, this may seem like a perfect solution. Less hassle, less money (but is it?), fewer worries (or is it so?). Well, keep in mind that maintaining an in-house cleaning crew can actually take valuable time and resources away from growing your business. How, you may ask? We will go into more details after revealing what the second alternative is.
So, on one side we have an in-house cleaning crew, and on the other? On the other we have the possibility of outsourcing your cleaning services. By that, we mean hiring a professional cleaning company to be in charge of keeping your office space clean. Just like with in-house cleaning, there are some assumptions when it comes to hiring professional cleaners. Some business owners may feel like it will take up a lot of their time to find the right cleaners, to come up with a cleaning schedule with them or that having professionals do the cleaning might interfere with the daily activities in office.
Well, we are here to bust this myth. Or, at least, the majority of it. The only part we might agree with is that it could take up some time to find the right cleaners for you and your business. Sure, you could just go to Google and pick the first ones, but we truly recommend taking your time in making this decision. Read some of the experiences other clients have had with your potential cleaning company, make sure they are well-experienced and well-trained. Schedule a meeting with them, let them inspect your space and suggest the right cleaning schedule and cleaning methods. For example, we at Geyen Group South always have this way of working – we carefully observe the area, we make sure to use the right methods and the right equipment and we do our best not to disrupt your office activities. So, to conclude, it may take some time to find the right cleaners, but once you do, everything will go as smoothly as possible.
Ok, so now that we've seen what the two main alternatives are, let's compare them even more. With in-house cleaning, you may possibly encounter various staff issues. A commercial cleaning company trains its workers, so this doesn't affect you. They deal with any possible issues regarding cleaning staff so one worry less for you. This leaves you more time to focus on your business while knowing that your office is clean and well taken care of. Also, professional cleaners are familiar with the latest trends in the cleaning industry and with the latest products and equipment available. They have many years of experience under their belts and are knowledgeable about topics such as stain prevention, flooring maintenance, and providing safe cleaning services. They specialize in creating a healthy, organized, and clean environment for your staff and your clients. Also, when it comes to costs, outsourcing cleaning service may result in saving you money. With outsourcing, there is no need to buy expensive equipment or supplies because all of that is provided by the cleaning company of your choice. Professional cleaners will make sure to work within your budget and they could also provide you with some ideas on money-saving practices such as day cleaning that could reduce your costs even further. And finally, there is flexibility. If you decide to outsource your cleaning services, it will allow you to adjust the number of workers you need as well as the type of services you need – all that carefully planned with your cleaning company.
So, which is the right way to go? Is it in-house cleaning or is it outsourcing? We won't tell you which one to choose, but we sincerely hope that we made that choice much easier with today's post and with listing and comparing the pros and cons of each alternative. But, if we dare to be completely honest, and in our humble opinion, should you opt for hiring professional cleaners, you will gain so much and you will have more time to enjoy and relax in your clean and healthy office space.
Summary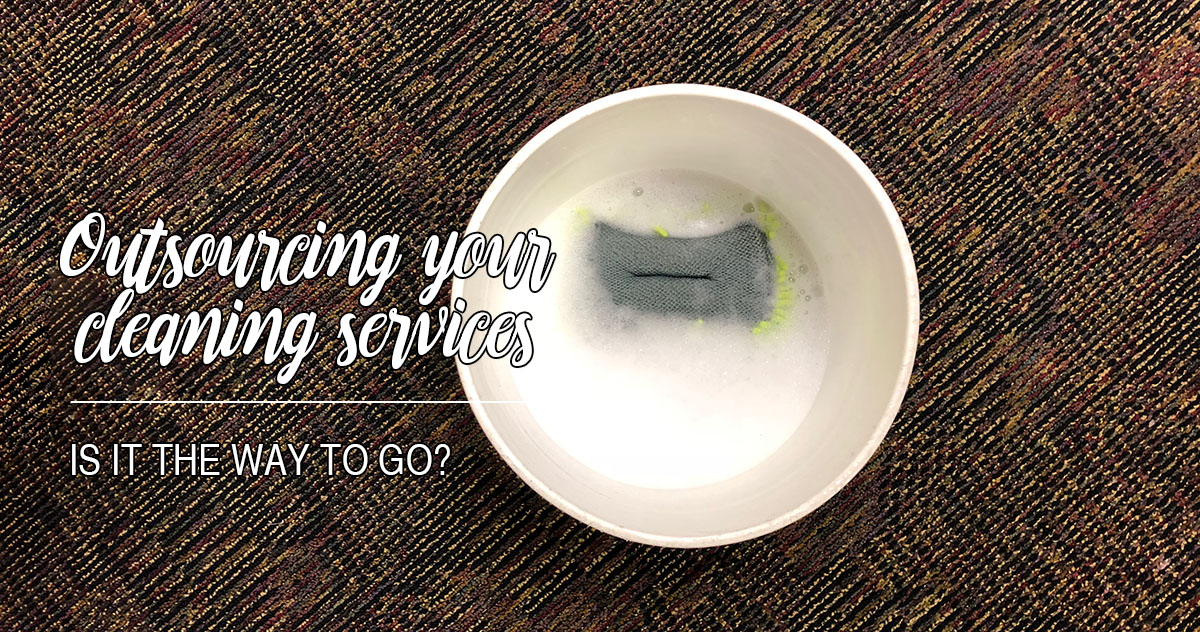 Article Name
Outsourcing your cleaning services – is it the way to go?
Description
The dilemma we're facing today revolves around office cleaning 101, and it deals with the type of cleaning you prefer for your office space. So, outsourcing your cleaning services – is it the way to go?
Author
Publisher
Publisher Logo